Skip Young – Waldorf MD Realtor, Veteran, Remax 100, 
People often ask if now is a good time to buy a home in Waldorf MD, but nobody ever asks whether or not it's a good time to rent in Waldorf MD. Regardless, we want to make certain that everyone understands that now is NOT a good time to rent.
The Census Bureau recently released their 2018 first quarter median rent numbers. According to their report, here is a graph showing rent increases from 1988 until today: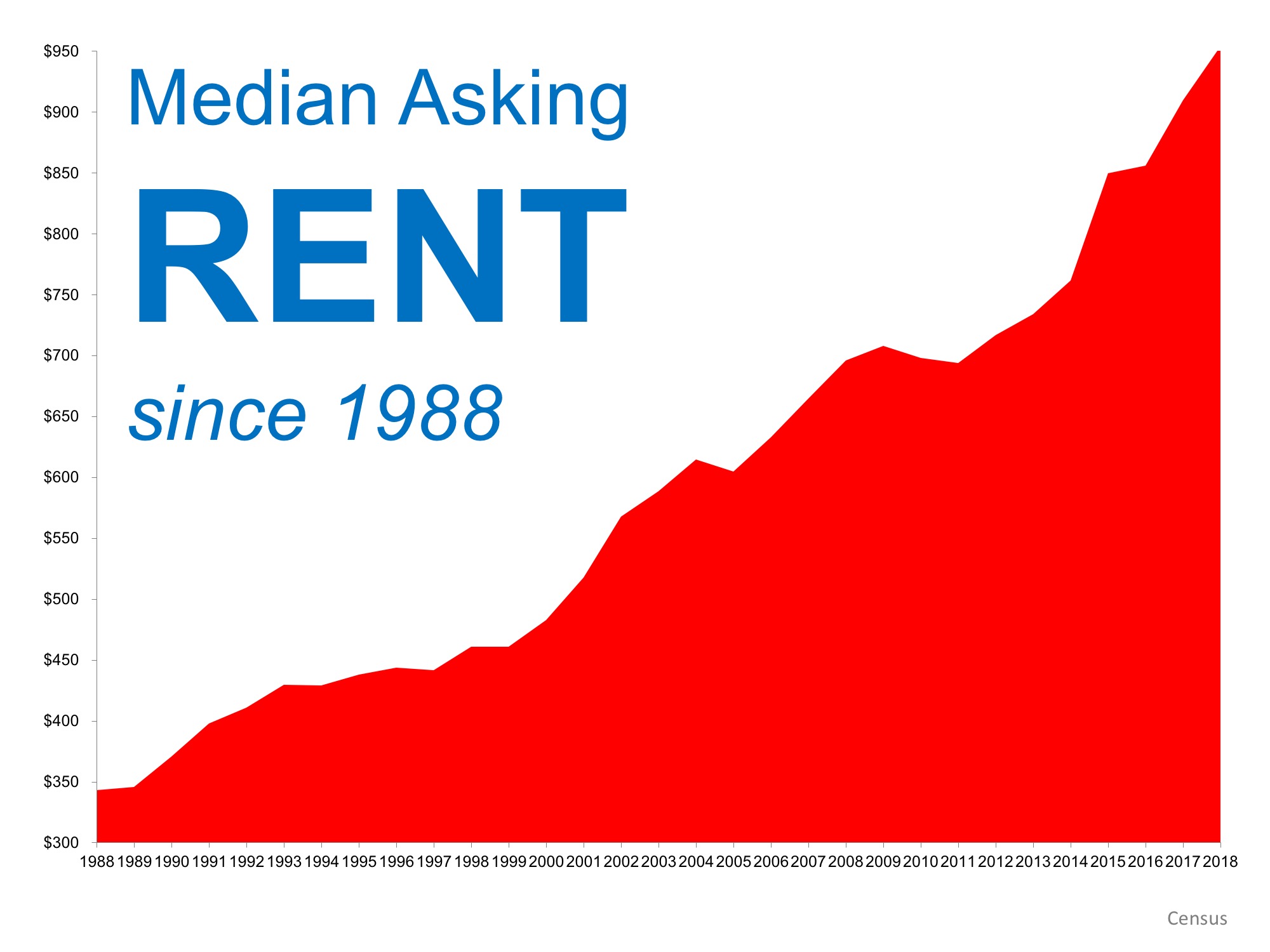 As you can see, rents have steadily increased and are showing no signs of slowing down. If you are faced with making the decision of whether or not you should renew your lease, you might be pleasantly surprised at your ability to buy a home in Waldorf MD  of your own instead.
There are many benefits to homeownership. One of the top benefits is protecting yourself from rising rents, by locking in your housing cost for the life of your mortgage.
Don't Become Trapped 
A recent article by Apartment List addressed rising rents by stating:
"Rents are up 2.7% year-over-year at the national level. Year-over-year growth continues to fall between the 2.1% rate from this time last year and the 3.4% growth rate from October 2015."
The article continues explaining that:
"Despite the seasonal slowdown, rents are still up year-over-year in 89 of the 100 Largest cities.
Additionally, the Urban Institute revealed that,
"Over a quarter of renters, or 11.1 million households, are severely cost burdened, spending at least half their income on rental housing.
These households struggle to save for a rainy day and pay other bills, including groceries and healthcare.
It's Cheaper to Buy Than Rent 
As we have previously mentioned, the results of the latest Rent vs. Buy Report from Trulia shows that homeownership remains cheaper than renting with a traditional 30-year fixed rate mortgage in the 100 largest metro areas in the United States.
The updated numbers show that the range is an average of 6.5% less expensive in San Jose (CA), all the way up to 57% less expensive in Detroit (MI) and 37.4% nationwide!
Know Your Options
Perhaps you have already saved enough to buy your first home in Waldorf MD. A nationwide survey of about 24,000 renters found that 80% of millennial renters plan to eventually buy a Waldorf MD house, but 72% cite affordability as their primary obstacle. Aside from affordability, one in three millennial renters have concerns about their credit scores, and another 53% said that a down payment is an obstacle.
Many first-time homebuyers who are buying a home in Waldorf MD and believe that they need a large down payment may be holding themselves back from their dream homes. As we have reported before, in many areas of the country, a first-time Maryland home buyer can save for a 3% down payment in less than two years. You may have already saved enough!
Bottom Line
Don't get caught in the trap that so many renters are currently in. If you are ready and willing to buy a home, find out if you are able. Let's get together to determine if you can qualify for a mortgage now! One way to protect yourself from rising rents is to lock in your housing expense by buying a home. If you are ready and willing to buy, let's meet to determine if you are able to today!
If you are looking to Buy a Home in Southern Maryland, hire a Southern Maryland Realtor to help you find the Home you are looking for. In either Charles County, St. Mary's County, Prince Georges County, Calvert County or Anne Arundel County, Finding and Hiring a local Realtor will help you find the right home for the right price. If its New Construction you need, your local Maryland Realtor can help you find the right Community or even find the right On Your Lot with Caruso Homes to build your Luxury Dream Home. What is your house value. Home value comes from the sales of other properties in your community that have sold over the last 6 months. When your house is prepared to go on the market, the value is calculated by Bedrooms, Bathrooms, Square Footage, Garage and Basement. Location also plays a part in the value of your home. If your in a good location, close to shopping, in a great school district, this will attract more potential buyers to your home. Making the home value much higher and also opening up the possibility of selling your home much faster. Taking also into the factor that when buying a New Luxury home from Caruso Home – On Your Lot, you have the opportunity to get your new home built for less than regular market value. Always give New Construction of your purchase a chance to see if you have the 7 – 9 months of build time. Caruso Homes also has communities all around Maryland that have homes that are 30 – 45 days out for you to purchase as well. Buying new will give you the value and equity to grow in your investment.
Please leave a message below and I will return your homes valuation, time to sell on the market and any other information on your neighborhood statistics.
Sorry we are experiencing system issues. Please try again.
Skip Young Realtor
is rated 5 stars on Google based on 3 reviews
04/10/2018 – williamrichmondinc
Sold a Single Family home in 2010 in Mechanicsville, MD.
Local knowledge:
Process expertise:
Responsiveness:
Negotiation skills:
I tried unsuccessfully for four years to sell my home in Mechanicsville. Two different real estate companies declined to renew my listing. Thank goodness for Skip Young. He never gave up and never made any excuses – and this was at a time when the real estate market was at it's absolute worst. We  had some offers that fell through at the last minute. Skip never wavered. His attitude was always positive. Thanks to Skip's tenacity and professionalism my house sold and I got the fresh start I needed. Thank you Skip.
2004 Rookie of the Year Southern Maryland
Calvert County
Skip Young
RE/MAX 100
Remax 100
10665 Stanhaven Place Suite 300
White Plains, MD 20695
(301) 535-8510
Mon-Sat 8am – 6pm
Skip Young | Caruso Homes | On Your Lot Division
Maryland Homes For Sale
Infographic by KCM Crew
Buying or Selling Real Estate in Maryland, Servicing these area's.
Bowie, Waldorf, Coltons Point, Bryantown, Barstow, Solomons, Mechanicsville, Fort Washington, Brandywine, Oxon Hill, Annapolis, Aquasco, Dameron, Welcome, Cobb Island, Helen, Issue, Lexington Park, Hughesville, Lusby, Lothian, Temple Hills, Morganza, Callaway, Cheltenham, Piney Point, Port Tobacco, Bel Alton, Faulkner, White Plains, Pomfret, Benedict, Huntingtown, Marbury, Churchton, Greenbelt, Edgewater, Dowell, Port Republic, Ridge, Scotland, Clinton, Hollywood, Saint Inigoes, Prince Frederick, Bushwood, Tall Timbers, Odenton, Clements, Bryans Road, Valley Lee, Chesapeake Beach, Broomes Island, Leonardtown, Patuxent River, Saint Marys City, North Beach, Rock Point, California, Saint Leonard, Indian Head, Gambrills, Davidsonville, Crofton, Chaptico, La Plata, Mayo, Charlotte Hall, West River, Dunkirk, Deale, Abell, Owings, Nanjemoy, Park Hall, Harwood, Compton, Great Mills, Ironsides, Loveville, Sunderland, Tracys Landing, Mount Victoria, Drayden, Shady Side, Avenue
Sorry we are experiencing system issues. Please try again.