Sorry we are experiencing system issues. Please try again.
Whats my home Worth  Maryland?
Real Estate Sales in Maryland
Home Prices Increase in Maryland
Working with a Local Realtor
Hire a PSCing Agent to Sell Your Home
Southern Maryland Property Value
What's my home Worth Maryland?
When should you sell your home? This is a very important question for one of the biggest financial moves you could possibly make. Making money in Real Estate is very important during this transition. It will allow you to take the money you make from one Real Estate Sale and put that money down on a more expensive upgraded home, or even sell your home and transfer the money to a downgraded home. Most homeowners find the need to hire a local Real Estate Expert in Charles County, Anne Arundel, Prince George's County, St. Mary's or Calvert County when they are either changing jobs or have had a promotion at work. There is also the possibility of job loss and you may even be facing a foreclosure. Once you find the need to sell your home it's time to talk to a Real Estate Professional that can help you with your transition. Currently lost your job or have run into a hardship that requires you to Short Sale your Home? Working with an agent that lives and works locally will help you get the best and highest dollar for the Sale of your home. Selling your home in Maryland in the time frame you need is very possible. Contact Skip Young @ 301-535-8510.
Find out your Maryland Homes Value today by filling and submitting the form.
Real Estate Sales in Southern Maryland
This is a Seller's Market, according to and Quoted from; CNBC, FORBES the market will continue to raise the property values. The market will continue to rise at a slower pace. Forbes is saying that the most increase will come the later part of 2017. With Millennials starting to purchase homes for sale, it opens the possibilities to selling your home faster. Hiring a Real Estate Agent in Charles County, Anne Arundel, Prince Georges County, St. Mary's or Calvert County that understands how to go to work for you in order to make sure your home sells. Currently buyer confidence is really high and along with the low unemployment rate that makes for stronger home buying power. This is according to noted David Blitzer, chairman of the Index Committee at S&P Dow Jones Indices, in the December release of the Case-Shiller home price index. He also goes on to say that because consumers are purchasing homes because of the job market, the increase in your homes price can only change based off of the rate that the job market can increase as well. Redfin and Zillow have their perspective on the raising of home prices as well. Since their algorithms can provide us with a close number of the current market conditions. They are estimating an increase of 5.3% from 2016 to 2017. They are estimating the median home will increase 3.2% as well.
Home Prices Increase in Maryland
Along with the current market conditions we also have to look at the market as a whole. One person who is always ahead of his investments is Warren Buffet. Warren Buffets company Berkshire Hathaway has taken $377 Million dollars and has invested in Real Estate. This shows the strength and forward thinking that Berkshire Hathaway has in its Real Estate Investing. Store capital is the Real Estate company that they invested in. They now own at $377 Million Dollars 9.8%. This investment makes Store Capital the 3rd largest Real Estate holder according to FactSet.com. This will lead the way towards creating a stronger market. You can follow up on the details of this investment CNBC.
Working with a Local  Maryland Realtor
Selling your home in is a big commitment. Hiring a Real Estate Professional in Charles County, Anne Arundel, Prince Georges County, St. Mary's or Calvert County is going to be a big decision. By hiring Skip Young a local Southern Maryland Realtor at eXp Realty, you will know that your home will be marketed and shown to every possible prospective buyer. We will set the expectations at the beginning of the listing of your home. With a Lifetime of Sales Experience and with the support of eXp Realty and the right Real Estate training that comes with the position. By using Technology, Social Media and Print together we will build a relationship that will help sell your home. Home Sales are on the rise with interest rates as low as they are and with the possibility of the low rates sticking around. Having an understanding of the housing market is critical to knowing where to price the sale of your home at. Making sure that we bring all the knowledge into the sale in order to get your home sold.
Hire a Fort Meade MD Agent to Sell Your Home
When selling your home in
Charles County, Anne Arundel, Prince George's County, St. Mary's or Calvert County
you should know that you are hiring the right Real Estate Agent, but you also should know the Real Estate Broker that you are hiring as well. A licensed Real Estate Agent in Southern Maryland works for the Real Estate Broker. The Broker and the Agent both share in the responsibility of making sure your home is sold. By hiring eXp Realty as the broker, you chose to sell your home, you are hiring a training based company that teaches their agents how to be the best agent you could hire. There are some basic fundamentals that a eXp Realty Agent brings to the table. Knowledge, Care, Skill, Compassion and Professionalism. To find additional information about eXp Realty please visit www.skipyoung.com. The bottom line here is that by choosing Skip Young at eXp Realty to sell your home is a great decision to make. Remax is a International Real Estate Company. Also providing a Network of Agents that work in Every State in the US and oversea's. Making it a smoother transaction for you to move due to your job or family. With God Family and Business as the company motto, working with us will be a fun and exciting time.
Maryland Property Value
Find out how much your Southern Maryland Property Value is worth. Whether you live in Charles County, Anne Arundel, Prince Georges County, St. Mary's or Calvert County I can provide you home value. Selling Homes in Southern MD and working with Sellers to find the exact price to sell you Southern Maryland Home for. Working for Sellers and Buyers as their local Realtor to provide the best service possible to price and sell your home. Having the experience and knowledge of the area helps determine how much you should sell your home for in order to sell it in the time frame that is needed. Using mediums such as Social Media, Pay Per Click Google and Technology to open your home for sale to the entire Real Estate Market. Giving your home the most exposure it could possibly receive in order to procure a buyer. We start at 8 am and finish around 6 pm to provide you with the best service possible. With my determination and years of sales experience allow me to go to work for you. Contact me today at 301-535-8510 in order to schedule an appointment to take a tour of your home and determine the best path to take in order to sell your home.
Find out your Southern Maryland Homes Value today by filling and submitting the form.
Maryland Home Values: The Difference 5 Years Makes
CoreLogic's latest Equity Report revealed that 675,000 US homeowners regained positive equity in their homes in 2017. This is great news for the country, as 95.1% of all mortgaged properties are now in a positive equity situation.
"U.S homeowners with mortgages (roughly 63% of all the properties) have seen their equity increase by a total of $908.4 billion since the fourth quarter 2016, an increase of 12.2%, year over year."
Price Appreciation = Good News for Homeowners
Frank Nothaft, CoreLogic's Chief Economist, explains:
"Home-price growth has been the primary driver of home-equity wealth creation. The CoreLogic Home Price Index grew 6.2 percent during 2017. The largest calendar-year increase since 2013. Likewise, the average growth in home equity was more than $15,000 during 2017, the most in four years."
He also believes this is a great sign for the market in 2018, saying:
"Because wealth gains spur additional consumer purchases, the rise in home-equity wealth during 2017 should add more than $50 billion to U.S. consumption spending over the next two to three years."  
This is great news for homeowners! But, do they realize that their equity position has changed?
A study by Fannie Mae suggests that many homeowners are not aware that they have regained equity in their homes as their investment has increased in value. For example, their study showed that 23% of Americans still believe their home is in a negative equity position when, in actuality, CoreLogic's report shows that only 4.9% of homes are in that position (down from 6.3% in Q4 2016).
The study also revealed that only 37% of Americans believe that they have "significant equity" (greater than 20%) when in actuality, 83% do!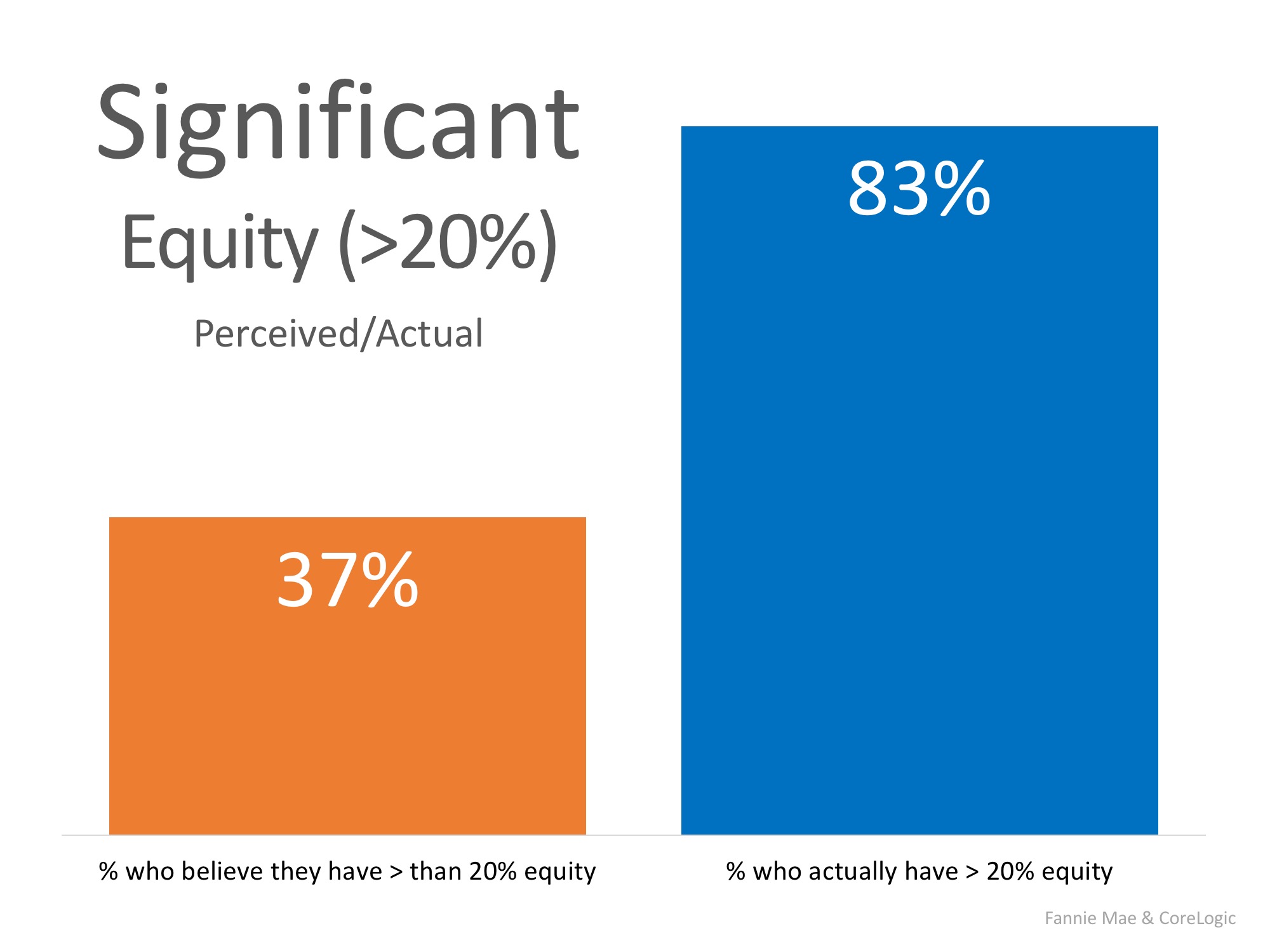 This means that 46% of Americans with a mortgage fail to realize the opportune situation they are in. With a sizeable equity position, many homeowners could easily move into a house (either larger or smaller) that better meets their current needs.
Fannie Mae spoke out on this issue in their report:
"Homeowners who underestimate their homes' values not only underestimate their home equity, they also likely underestimate 1) how large a down payment they could make with their home equity, 2) their chances of qualifying for mortgages, and, therefore, 3) their opportunities for selling their current homes and for buying different homes."
Bottom Line
If you are one of the many Americans who is unsure of how much equity you have built in your home, don't let that be the reason you fail to move on to your dream home in 2018! Let's get together to evaluate your situation!
Find out your Homes Value in Maryland today by filling and submitting the form.
Realtor: Skip Young
Skip Young Realtor




is rated 5 stars on Google based on 3 reviews


137 National Plaza, Suite 300
National Plaza,
MD
200745
(301) 337-1999
Mon-Sat 8am – 6pm
Maryland Homes For Sale

Sorry we are experiencing system issues. Please try again.
Skip Young Realtor®