Waldorf MD Real Estate: Buyer's Market Helps Premium Home Sales?
Waldorf MD Realtor, Veteran, Remax 100, Caruso Homes – On Your Lot
Purchasing a home for your family in Waldorf MD, Southern Maryland gives your family the privacy of owing your won home. Whether you purchase in the 20601 zip code which is Northern Waldorf, with subdivisions like Pinefield, close to the Brandywine shopping center. You have the time and privacy of coming and going to your home as you please. You are the owner of it. There is no landlord to put any restriction to your home. Gives you a sense of pride everyday you get home from work. The Waldorf MD area is located close to great job opportunities. Local, State and Federal jobs are available along with the surrounding military bases. Buying a Waldorf MD is a great family investment
Buying in Waldorf MD give you access to some really good schools, The top on the list is North Point School District. When you put your family first, you want a place that they can always return to. You not just buying a Waldorf MD home, your investing in your children future. Not just in education but also in investment. Buying a Waldorf MD home is like having a savings account that just keeps collecting and gaining every month. Invest in your family.
When you buy property in Waldorf MD, you are investing into your wealth of your future. Between the amount of years you finance your property you making a Real Estate investment that can always be a savings account. Your home is your asset. Its where all your belongings are stored, you have a key to come and go as you please. When it comes time to list and sell you Waldorf MD property, you can collect the deposits you had been making for 10 or 15 years. Always invest in property in Waldorf MD.
Being a Waldorf MD Home Owner allows you the opportunity to create the lifestyle you are wanting to create for yourself. You are in control of your home design and exterior design as well. There are plenty of Communities in the 20601, 20602, 20603, 20604 zip codes that will allow you to enjoy your neighbors as well.
Owning your own home in Southern Maryland opens you up to joining in local activities. Church and other community events are always happening. There is plenty of things to do in the Charles County area. The fair comes once a year to the Charles County fair grounds just outside of La Plata. Meeting people to socialize at the many restaurants is a great way to spend time with other home owners in the Waldorf MD area. We are also located so close to the Metropolitan area, home of the Washington Redskins and the Washington Wizards basketball.
When you purchase a Waldorf MD home for sale, you are showing the efforts of you success. You have accomplished enough business in your life that it allowed you to afford the monthly Principle, Interest, Taxes and Insurance payment to keep you home over you head. Your success will be shown through home ownership in Southern Maryland.
We previously reported how a shortage of inventory in the starter and trade-up home markets is driving prices up and causing bidding wars, creating a true seller's market. At the same time, in the premium Waldorf MD home market, an over-abundance of inventory has started to see prices come down and put buyers in the driver's seat, creating the beginning of a buyer's market.
Last week, the National Association of Realtors released their Existing Home Sales Report which shed some additional light on the impact of inventory levels on sales in each price range.
The chart below shows the year-over-year difference in sales at each price range.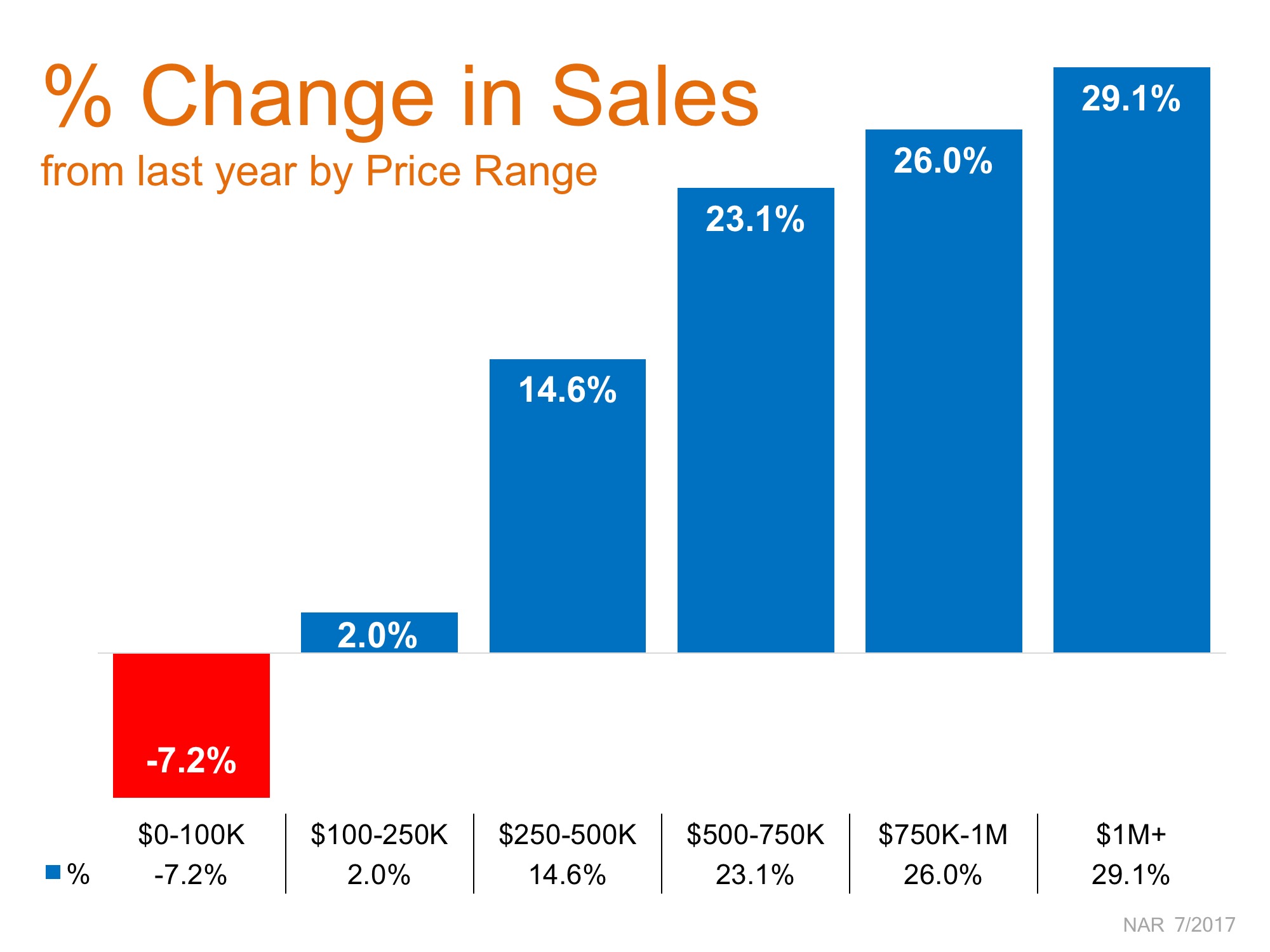 The under $100K range has shown declines in recent years due to the shortage of Waldorf MD distressed homes available for sale (just 5% of sales this past month, compared to 35% in January 2012). Sales in the next two price ranges are no doubt being hindered by low inventory as buyers compete for the same home.
NAR's Chief Economist, Lawrence Yun, explained:
"Those able to close on a home last month are probably feeling both happy and relieved. Listings in the affordable price range are scarce, homes are coming off the market at an extremely fast pace and the prevalence of multiple offers in some markets are pushing prices higher."
The biggest surprise? This is the first time in years where the $1M and up price range had the highest jump in sales when compared to last year and to all other price ranges (29.1%)! The two price ranges right underneath the $1M range were a close second and third. As the price went up, so did the sales!
With additional inventory available in the higher price ranges, and the economy improving, many luxury buyers are finding it easier to find their dream homes. Yun commented,
"The job market in most of the country is healthy and the recent downward trend in mortgage rates continues to keep buyer interest at a robust level."
Bottom Line
If you are one of the many homeowners who is looking to sell your Waldorf MD starter or trade up home and move up to a luxury home, now is the time!
If you are looking to Buy a Home in Southern Maryland, hire a Southern Maryland Realtor to help you find the Home you are looking for. In either Charles County, St. Mary's County, Prince Georges County, Calvert County or Anne Arundel County, Finding and Hiring a local Realtor will help you find the right home for the right price. If its New Construction you need, your local Maryland Realtor can help you find the right Community or even find the right On Your Lot with Caruso Homes to build your Luxury Dream Home. What is your house value. Home value comes from the sales of other properties in your community that have sold over the last 6 months. When your house is prepared to go on the market, the value is calculated by Bedrooms, Bathrooms, Square Footage, Garage and Basement. Location also plays a part in the value of your home. If your in a good location, close to shopping, in a great school district, this will attract more potential buyers to your home. Making the home value much higher and also opening up the possibility of selling your home much faster. Taking also into the factor that when buying a New Luxury home from Caruso Home – On Your Lot, you have the opportunity to get your new home built for less than regular market value. Always give New Construction of your purchase a chance to see if you have the 7 – 9 months of build time. Caruso Homes also has communities all around Maryland that have homes that are 30 – 45 days out for you to purchase as well. Buying new will give you the value and equity to grow in your investment.
Please leave a message below and I will return your homes valuation, time to sell on the market and any other information on your neighborhood statistics.
Sorry we are experiencing system issues. Please try again.
Skip Young Realtor
is rated 5 stars on Google based on 3 reviews
04/10/2018 – williamrichmondinc
Sold a Single Family home in 2010 in Mechanicsville, MD.
Local knowledge:
Process expertise:
Responsiveness:
Negotiation skills:
I tried unsuccessfully for four years to sell my home in Mechanicsville. Two different real estate companies declined to renew my listing. Thank goodness for Skip Young. He never gave up and never made any excuses – and this was at a time when the real estate market was at it's absolute worst. We  had some offers that fell through at the last minute. Skip never wavered. His attitude was always positive. Thanks to Skip's tenacity and professionalism my house sold and I got the fresh start I needed. Thank you Skip.
2004 Rookie of the Year Southern Maryland
Calvert County
Skip Young
RE/MAX 100
Remax 100
10665 Stanhaven Place Suite 300
White Plains, MD 20695
(301) 535-8510
Mon-Sat 8am – 6pm
Skip Young | Caruso Homes | On Your Lot Division
Maryland Homes For Sale
Infographic by KCM Crew
Buying or Selling Real Estate in Maryland, Servicing these area's.
Bowie, Waldorf, Coltons Point, Bryantown, Barstow, Solomons, Mechanicsville, Fort Washington, Brandywine, Oxon Hill, Annapolis, Aquasco, Dameron, Welcome, Cobb Island, Helen, Issue, Lexington Park, Hughesville, Lusby, Lothian, Temple Hills, Morganza, Callaway, Cheltenham, Piney Point, Port Tobacco, Bel Alton, Faulkner, White Plains, Pomfret, Benedict, Huntingtown, Marbury, Churchton, Greenbelt, Edgewater, Dowell, Port Republic, Ridge, Scotland, Clinton, Hollywood, Saint Inigoes, Prince Frederick, Bushwood, Tall Timbers, Odenton, Clements, Bryans Road, Valley Lee, Chesapeake Beach, Broomes Island, Leonardtown, Patuxent River, Saint Marys City, North Beach, Rock Point, California, Saint Leonard, Indian Head, Gambrills, Davidsonville, Crofton, Chaptico, La Plata, Mayo, Charlotte Hall, West River, Dunkirk, Deale, Abell, Owings, Nanjemoy, Park Hall, Harwood, Compton, Great Mills, Ironsides, Loveville, Sunderland, Tracys Landing, Mount Victoria, Drayden, Shady Side, Avenue
Sorry we are experiencing system issues. Please try again.