Realtor, Veteran, New Home Sales, Author
This article written by Author: Skip Young
For Waldorf MD this month, Arch Mortgage Insurance released their spring Housing and Mortgage Market Review. The report explained that an increase in mortgage rates and/or home prices would impact monthly payments this way:
A 5% increase in home prices increases payments by roughly 5%
A 1% rise in interest rates increases payments by roughly 13% or 14%
That begs the question…
What if both rates and prices increase as predicted?
The report revealed:
"If interest rates and home prices rise by year-end in the ballpark of what most analysts are forecasting, monthly mortgage payments on a new home purchase could increase another 10–15%. That would make 2018 one of the worst full-year deteriorations in affordability for the past 25 years."
The percent increase in mortgage payments would negatively impact affordability. But, how would affordability then compare to historic norms?
Per the report:
"For the U.S. overall, even if affordability were to deteriorate as forecasted, affordability would still be reasonable by historic norms. That is because the percentage of pre-tax income needed to buy a typical home in 2019 would still be similar to the historical average during 1987–2004. Thus, nationally at least, even with higher rates and home prices, affordability will just revert to historical norms."
What about Waldorf MD home prices?
A decrease in affordability will cause some concern about Waldorf MD home values. Won't an increase in mortgage payments negatively impact the housing market? The report addressed this question:
"Even recent interest rate increases and higher taxes on some upper-income earners didn't slow the market, as many had feared…Short of a war or stock market crash, housing markets could continue to surprise on the upside over the next few years."
To this point, Arch Mortgage Insurance also revealed their Risk Index which estimates the probability of home prices being lower in two years. The index is based on factors such as regional unemployment rates, affordability, net migration, housing starts and the percentage of delinquent mortgages.
Below is a map depicting their projections (the darker the blue, the lower the probability of a price decrease):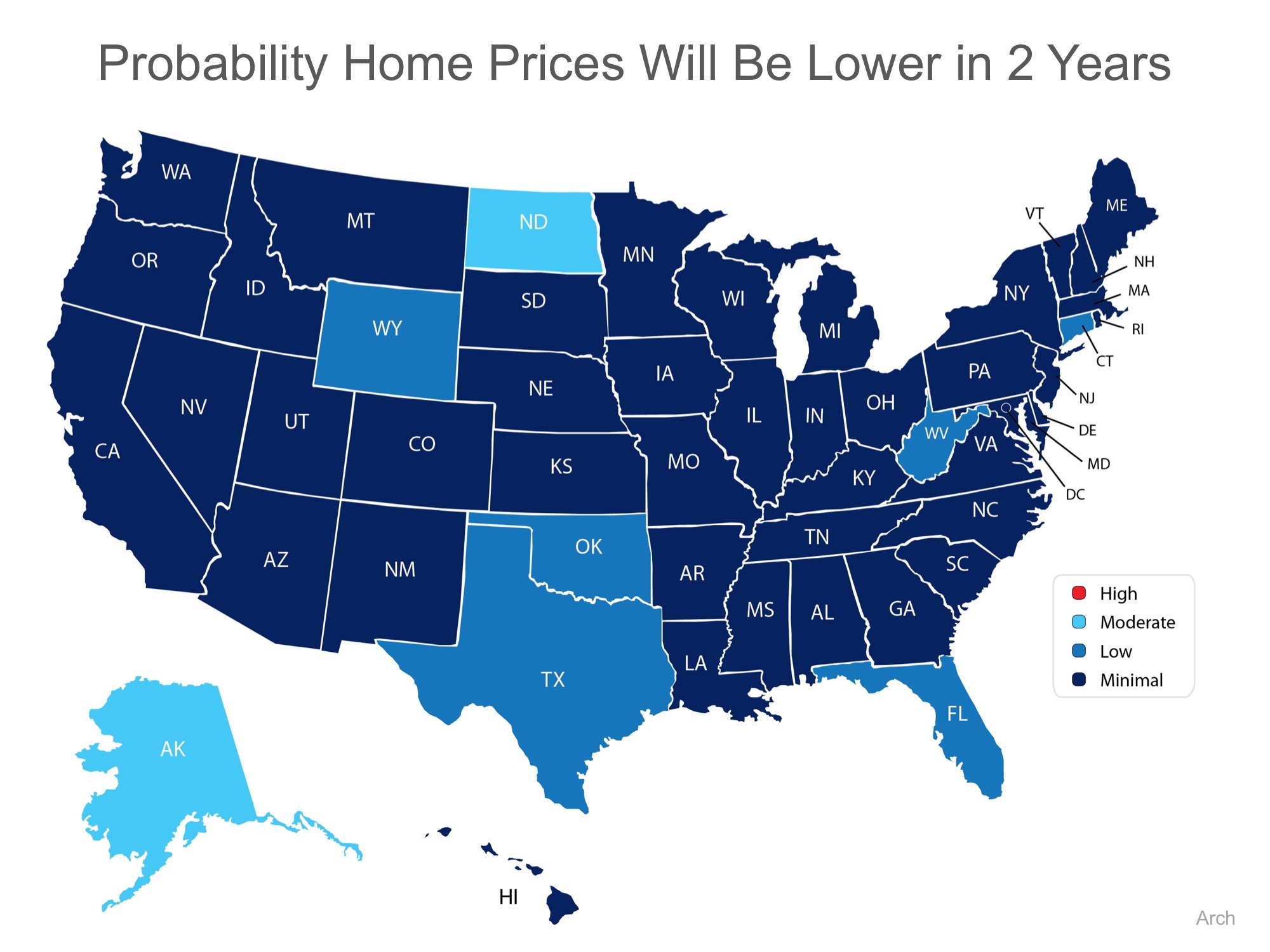 Bottom Line
If interest rates and prices continue to rise as projected, the monthly mortgage payment on a home purchased a year from now will be dramatically more expensive than it would be today. So this make the time to buy a home in Waldorf MD the best time. Before rates increase and you are priced out of the home you really dreamed of having. By pricing you out of the size, bedroom or location of the Waldorf Area Home you will be looking at different homes in different locations amongst the counties.
If you are looking to Buy a Home in Southern Maryland, hire a Southern Maryland Realtor to help you find the Home you are looking for. In either Charles County, St. Mary's County, Prince Georges County, Calvert County or Anne Arundel County, Finding and Hiring a local Realtor will help you find the right home for the right price. If its New Construction you need, your local Maryland Realtor can help you find the right Community or even find the right On Your Lot with Caruso Homes to build your Luxury Dream Home. What is your house value. Home value comes from the sales of other properties in your community that have sold over the last 6 months. When your house is prepared to go on the market, the value is calculated by Bedrooms, Bathrooms, Square Footage, Garage and Basement. Location also plays a part in the value of your home. If your in a good location, close to shopping, in a great school district, this will attract more potential buyers to your home. Making the home value much higher and also opening up the possibility of selling your home much faster. Taking also into the factor that when buying a New Luxury home from Caruso Home – On Your Lot, you have the opportunity to get your new home built for less than regular market value. Always give New Construction of your purchase a chance to see if you have the 7 – 9 months of build time. Caruso Homes also has communities all around Maryland that have homes that are 30 – 45 days out for you to purchase as well. Buying new will give you the value and equity to grow in your investment.
Please leave a message below and I will return your homes valuation, time to sell on the market and any other information on your neighborhood statistics.
Sorry we are experiencing system issues. Please try again.
Skip Young Realtor
is rated 5 stars on Google based on 3 reviews
04/10/2018 – williamrichmondinc
Sold a Single Family home in 2010 in Mechanicsville, MD.
Local knowledge:
Process expertise:
Responsiveness:
Negotiation skills:
I tried unsuccessfully for four years to sell my home in Mechanicsville. Two different real estate companies declined to renew my listing. Thank goodness for Skip Young. He never gave up and never made any excuses – and this was at a time when the real estate market was at it's absolute worst. We  had some offers that fell through at the last minute. Skip never wavered. His attitude was always positive. Thanks to Skip's tenacity and professionalism my house sold and I got the fresh start I needed. Thank you Skip.
2004 Rookie of the Year Southern Maryland
Calvert County
Skip Young
RE/MAX 100
Remax 100
10665 Stanhaven Place Suite 300
White Plains, MD 20695
(301) 535-8510
Mon-Sat 8am – 6pm
Skip Young | Caruso Homes | On Your Lot Division
Maryland Homes For Sale
Infographic by KCM Crew
Buying or Selling Real Estate in Maryland, Servicing these area's.
Bowie, Waldorf, Coltons Point, Bryantown, Barstow, Solomons, Mechanicsville, Fort Washington, Brandywine, Oxon Hill, Annapolis, Aquasco, Dameron, Welcome, Cobb Island, Helen, Issue, Lexington Park, Hughesville, Lusby, Lothian, Temple Hills, Morganza, Callaway, Cheltenham, Piney Point, Port Tobacco, Bel Alton, Faulkner, White Plains, Pomfret, Benedict, Huntingtown, Marbury, Churchton, Greenbelt, Edgewater, Dowell, Port Republic, Ridge, Scotland, Clinton, Hollywood, Saint Inigoes, Prince Frederick, Bushwood, Tall Timbers, Odenton, Clements, Bryans Road, Valley Lee, Chesapeake Beach, Broomes Island, Leonardtown, Patuxent River, Saint Marys City, North Beach, Rock Point, California, Saint Leonard, Indian Head, Gambrills, Davidsonville, Crofton, Chaptico, La Plata, Mayo, Charlotte Hall, West River, Dunkirk, Deale, Abell, Owings, Nanjemoy, Park Hall, Harwood, Compton, Great Mills, Ironsides, Loveville, Sunderland, Tracys Landing, Mount Victoria, Drayden, Shady Side, Avenue
Sorry we are experiencing system issues. Please try again.