Your Friends Are Crazy Wrong If They're Telling You Not to Buy a Maryland Home for Sale. Now is the time to BUY. New Construction in Southern Maryland is Booming.

Unfortunately, our Maryland homes don't always grow with us. What may have initially worked fine for a single person, a young couple's starter home, or a family with a newborn can quickly become too small as families expand and multiple generations live under one roof.
Remodeling and adding to your home is one option for creating more space, but it can be costly, and the size of your property may be prohibitive. That's when moving to a bigger home becomes the best solution.
WHERE DO YOU NEED MORE SPACE IN YOUR MARYLAND HOME FOR SALE?
The first thought when upsizing your home is to simply consider square footage, bedrooms, and bathrooms. But it's important to take a more critical approach to how your space will actually be used. If you have younger children (or possibly more on the way), then focusing on bedrooms and bathrooms makes sense. But if your children are closer to heading off to college or starting their own families, it may be better to prioritize group spaces like the kitchen, dining room, living room, and outdoor space—it'll pay off during the holidays or summer vacations, when everyone is coming to visit for big gatherings.
MOVING UPWARD TO A LUXURY NEW CONSTRUCTION BY CARUSO HOMES?
If you need more space, but don't necessarily want a more expensive home, you can probably get a lot more house for your money if you move a little further from a city center. While the walkability and short commutes of a dense neighborhood or condo are hard to leave beyond, your lifestyle—and preferences for hosting Thanksgiving, barbecues, and birthdays—might mean that a spacious home in the suburbs makes the most sense. It's your best option for upsizing while avoiding a heftier price tag.
Is this the right time to purchase a Maryland House for Sale?
The current narrative is that home prices have risen so much so that it is no longer a smart idea to purchase a Southern Maryland home. Your family and friends might suggest that buying a home right now (whether a first-time home or a move-up home) makes absolutely no sense from an affordability standpoint. They are wrong!
Homes are more affordable right now than at almost any time in our country's history except for the foreclosure years (2009-2015) when homes sold at major discounts. As an example, below is a graph from the latest Black Knight Mortgage Monitor  Showing the percentage of median income needed to buy a medium-priced home in the country today in comparison to prior to the housing bubble and bust.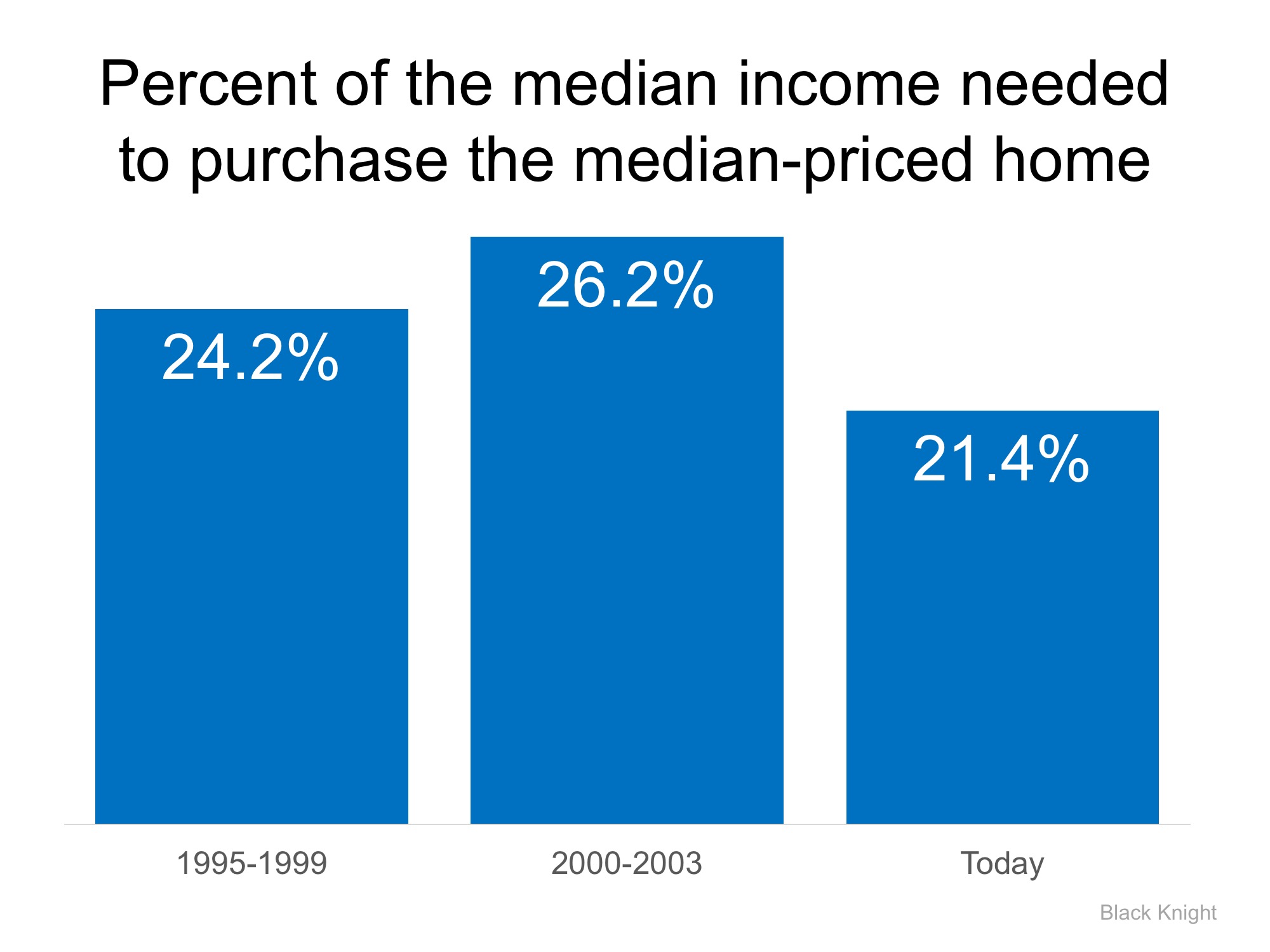 As we can see, the percentage necessary is less now than in those time periods.
The Mortgage Monitor also explains that home affordability is better today than it was in the late 1990s in 47 of 50 states.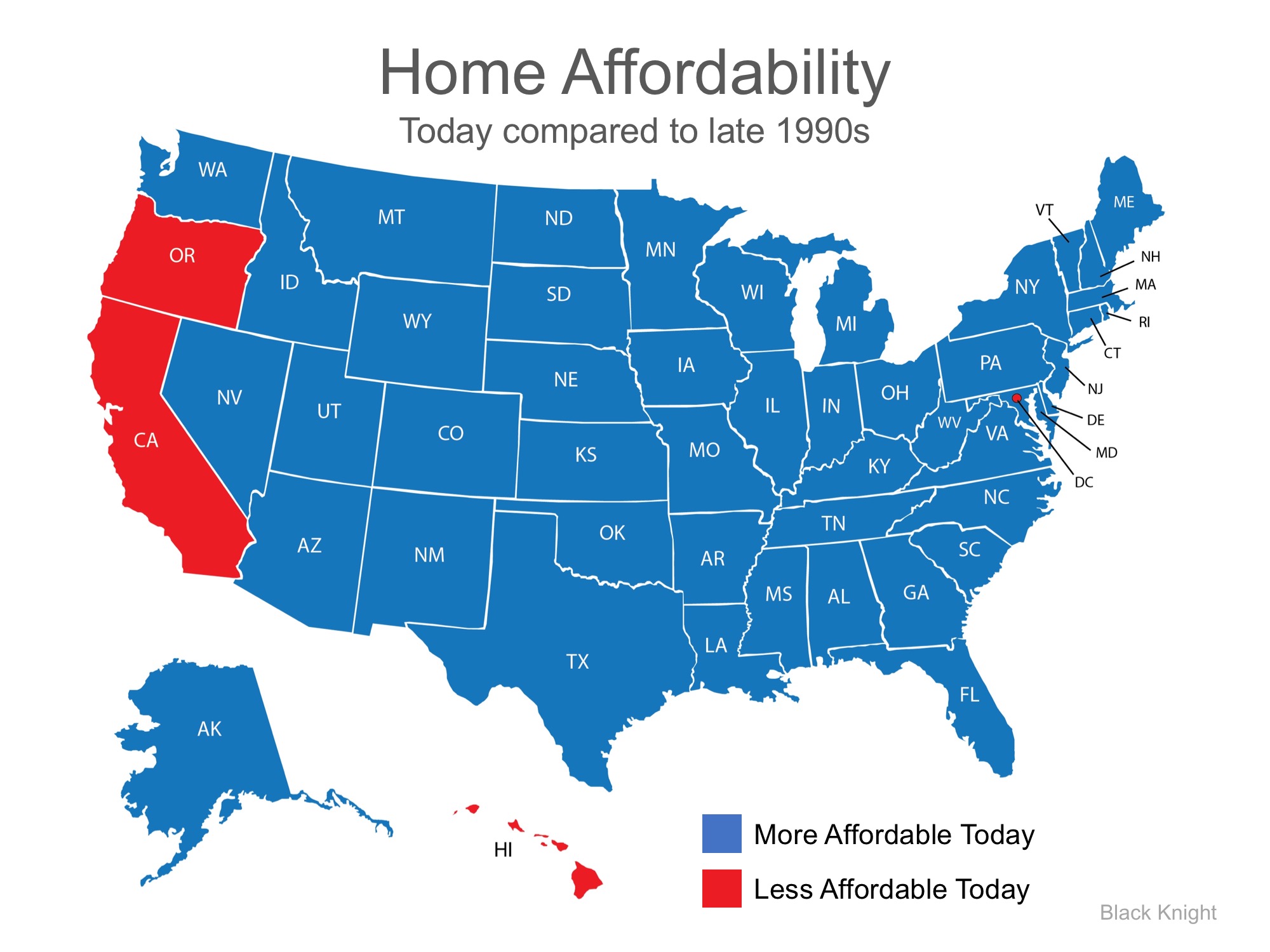 Bottom Line
Your friends and family have your best interests at heart. However, when it comes to buying your first home as a Maryland First Time Home Buyer or selling and listing your  your current house with a Local Maryland Realtor Skip Young to buy the house of your dreams, let's get together to discuss what your best move is, now. If you have to sell your home to get into a home located in Maryland DC or Virginia we can discuss your options. New Construction is on the rise and working with Caruso Home and the On Your Lot Division is a perfect fit to find the perfect lot for you to build your Luxury Dream Home on.
Find out your Homes Value in Southern Maryland today by filling and submitting the form.
If you are looking to Buy a Home in Southern Maryland, hire a Southern Maryland Realtor to help you find the Home you are looking for. In either Charles County, St. Mary's County, Prince Georges County, Calvert County or Anne Arundel County, Finding and Hiring a local Realtor will help you find the right home for the right price. If its New Construction you need, your local Maryland Realtor can help you find the right Community or even find the right On Your Lot with Caruso Homes to build your Luxury Dream Home.
Author: Skip Young
Skip Young Realtor
is rated 5 stars on Google based on 3 reviews
10665 Stanhaven Place Suite 300
White Plains, MD 20695
(301) 535-8510
Mon-Sat 8am – 6pm
Maryland Homes For Sale
Infographic by KCM Crew
Buying or Selling Real Estate, Servicing these area's.
Bowie, Waldorf, Coltons Point, Bryantown, Barstow, Solomons, Mechanicsville, Fort Washington, Brandywine, Oxon Hill, Annapolis, Aquasco, Dameron, Welcome, Cobb Island, Helen, Issue, Lexington Park, Hughesville, Lusby, Lothian, Temple Hills, Morganza, Callaway, Cheltenham, Piney Point, Port Tobacco, Bel Alton, Faulkner, White Plains, Pomfret, Benedict, Huntingtown, Marbury, Churchton, Greenbelt, Edgewater, Dowell, Port Republic, Ridge, Scotland, Clinton, Hollywood, Saint Inigoes, Prince Frederick, Bushwood, Tall Timbers, Odenton, Clements, Bryans Road, Valley Lee, Chesapeake Beach, Broomes Island, Leonardtown, Patuxent River, Saint Marys City, North Beach, Rock Point, California, Saint Leonard, Indian Head, Gambrills, Davidsonville, Crofton, Chaptico, La Plata, Mayo, Charlotte Hall, West River, Dunkirk, Deale, Abell, Owings, Nanjemoy, Park Hall, Harwood, Compton, Great Mills, Ironsides, Loveville, Sunderland, Tracys Landing, Mount Victoria, Drayden, Shady Side, Avenue